Yes, yes, I know I'm supposed to be #FF on Twitter and not Blogger, but I haven't visited Twitter in a while. Facebook is distracting and time-consuming enough. Instead, I decided to institute a Follow Friday feature on my blog, just because I come across so many fun and lovely bloggers I'd like to share. :)
Today's edition is the "I *heart* Bloggers who share photos of their cooking, step-by-step" edition. [applause]
Our first blogger is the gorgeous and talented Kallay of
Kallaydoscope
. Her thoughts run the gamut from sweet to tart, but always with a dash of lively fun. Her most recent cooking post featured "
Baked French Toast
," which looks absolutely delightful.
Our next blogger likely needs no introduction, because she's extremely well known: Ree Drummond,
the Pioneer Woman
. Just in case you haven't been to visit her blog before, I really must insist you make the time for a stay...her blog is a visual treat as well as wonderful to read. The cooking post which caught my attention today was her
Dulce de Leche coffee
...absolutely mouth-watering, hip-widening, and I can't wait to try it!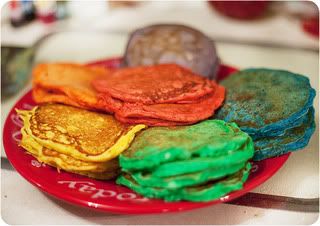 My final bloggy pic of the day is a dear friend and compadre,
Mandi
. If you ever need a pick-me-up, Mandi is ready and willing to supply it with her frequent posts on family, her faith, and all things crafty. The wonderful cooking post she offered was
Rainbow Pancakes
, sure to be a favorite of children young and old.
This is only a short list of the wonderful bloggers I know, so I hope to continue this feature every other Friday or so, with more! Hope you enjoy my bloggy friends as much as I do. Dig in!