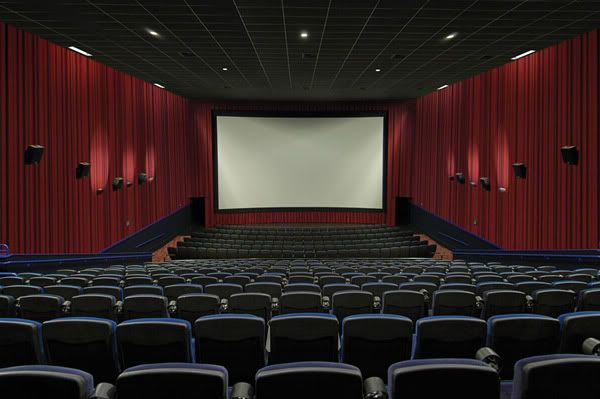 We walked into the darkened room, trying not to stumble over our own feet. Slipping into a comfy seat, tension flowed out and excitement bubbled up. A flutter in the film projection on the wall above gave a sign that the magic was about to begin, and like that we were transported to a scene very much like the one we had just left outside the door: still green, still wet and rainy.
And then the music swelled, the vampire walked onto the scene, and the transition was complete: we were in Forks, Washington, in an alternate existence. Here there is no war in Iraq, no children to care for, not even a dog to put out. For two hours there is only the story of a girl who fell in love with a vampire and the repercussions for friends and family.
My husband and I went to see "The Twilight Saga: New Moon" yesterday. As an adult fangirl myself, seeing other adults at the matinee showing was a bit of a relief. A good friend had purchased tickets to the opening show on Friday for a girls' night out, but a bad cold had other ideas for me. In a way it worked out well, because I received a peaceful date with my husband rather than having to sit through a movie of teenage squeals. That's not to say that the older fangirls didn't titter over shows of skin, but the reaction was more muted. It was a theater of adults who wanted to be transported to another place for a while, suspending our day to day dealings and allowing a little belief in magic and myth into our thoughts.
Although many readers and writers have criticized Stephenie Meyer's writing skills, especially considering the phenomenon her series has become, I won't be adding my voice to that chorus. For me, Meyer's work has been a form of therapy. I first discovered it last year during my husband's deployment, reading through the four books as quickly as I could get my hands on them. Being able to escape into another world has always held an allure, especially during times of stress. I found myself rereading the series last month after the loss of my grandfather.
Despite not being John Steinbeck, Meyer has created a lovable cast of characters and an engaging story line. She interweaves love and loss, selfishness and sacrifice, intrigue and gentle romance. Yesterday we saw that creation on the big screen.
There's really nothing like a fantasy escape, even when it's across town or just to the easy chair.